The new universal radio receiver Nice TT1VR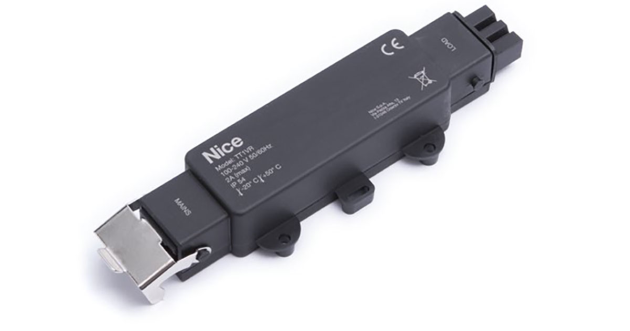 The radio receiver Nice TT1VR
The universal receiver TT1VR
The new universal radio receiver developped in collaboration with Lamelcolor SA, the TT1VR, is equipped with Stas3/Stak3 connector and enables the management of venetian blinds, sun awnings and roller shutters.
Push n' Tilt function
This function with the Nice transmitters permits to set the inclination of the slat. It only needs a push on the up or down button to adjust with presicion the orientation of the slat (tilt). The position and the inclination can be saved and recalled by a simply pressure of the transmitter button. (up to 30 different intermediate positions).
Simple, easy and efficient programming
The TT1VR is easy and safe to programme. This new model adds a confirmation by blind movement. The programming process is severly reduced vis-à-vis his predecessor.

The receiver use the radio protocol NRC 433,92Mhz, compatible with the complete Nice Era sensors and remotes range. Moreover the TT1VR consumes just 0.3 W in standby mode.

TT1VR technical specifications